A Tale of a Carnival in Rio
Now that the funding snafu with the Mayor's office seems to be resolved, Habemus Rio Carnaval 2018! Here I share my 2017 experience which might just get you inspired to finally cross that item off your bucket list!
It's hard to believe as a native Brazilian, I had never experienced Carnaval, so when my travel schedule had me in São Paulo on other business the week before, I didn't think twice before seizing the opportunity.
Note to fellow traveler: everyone in Brazil has some type of travel plan for Carnaval, it's a national holiday and school's out. Expect mildly annoying delays and crowds everywhere from airports to hotels to the streets and the beaches.
Lounge living's easy
Plagued by several canceled flights from previous days due to a combination of a burned LATAM engine, a massive thunderstorm and a lack of ground personnel to organize the additional traffic, my 45-min early morning air-bridge to Rio turned into a wildly annoying 11-hour ordeal spent in a mess of a Congonhas Airport. Heading back into town was not an option because returning to the airport would be a challenge with many city streets closed to give way to Blocos de Carnaval. I decided to stay put and slowly made myself comfortable at the quieter lounge where I stretched on a couch and napped my troubles away. Not the best lounge experience, but much better than spending the day a la Tom Hanks in The Terminal, Priority Pass FTW! I later had lunch, moved to the bigger, more crowded Bradesco Centurion lounge with better coffee and snacks. The next few hours were spent between my emails and occasionally peeking over the computer to see fellow travelers join in camaraderie to exchange Nespresso fueled frustrations over their respective delays.
Once a gate was finally assigned for my flight in the early evening, I made my way downstairs to find complete chaos in the terminal. A fight had broken out on the next gate where disgruntled passengers got physically aggressive with airline staff while others chanted in protest. Oblivious to what had been happening at the gates, I thought, "maybe an entire day of waiting in the airport (lounge) wasn't so bad after all".
Parading with the locals
Stepping off the plane I was embraced by Rio's hot humidity at Santos Dumont Airport and instantly Sao Paulo felt like a million miles away. In no time I joined a lively group of carioca friends who welcomed me with open arms much like those on the Christ the Redeemer statue.
We donned our sorcerer costumes and off we went to my Sapucai Sambadrome debut participating in Renascer de Jacarepagua, a smaller samba school in the Series A. I was filled with curiosity, excitement, and major butterflies in my stomach, much like a kid before a school play. Positioning ourselves within our section, we became one with dozens of others wearing the same costume and I felt a sense of community at concentration. Before I knew it, fireworks! Percussion! Samba! Let's go!
It takes about 25-30 min to cross the sambadrome and I floated the whole way as if walking on one long Oscar Niemeyer-designed cloud, singing (most of) the lyrics as the crowds cheered us on. Having participated in the Series A for my first time was the best decision since the ambiance is not as strict with knowing the lyrics, placement and choreography as with the main event samba schools, so we were more relaxed and just let the fun roll. Teary-eyed, hot and sweaty, I crossed the finish line and reached the Apoteose Arch in a moment of pure ecstasy, as it dawned on me I had just been part of something huge, something entire communities work all year for, culminating in this brief but oh so powerful experience.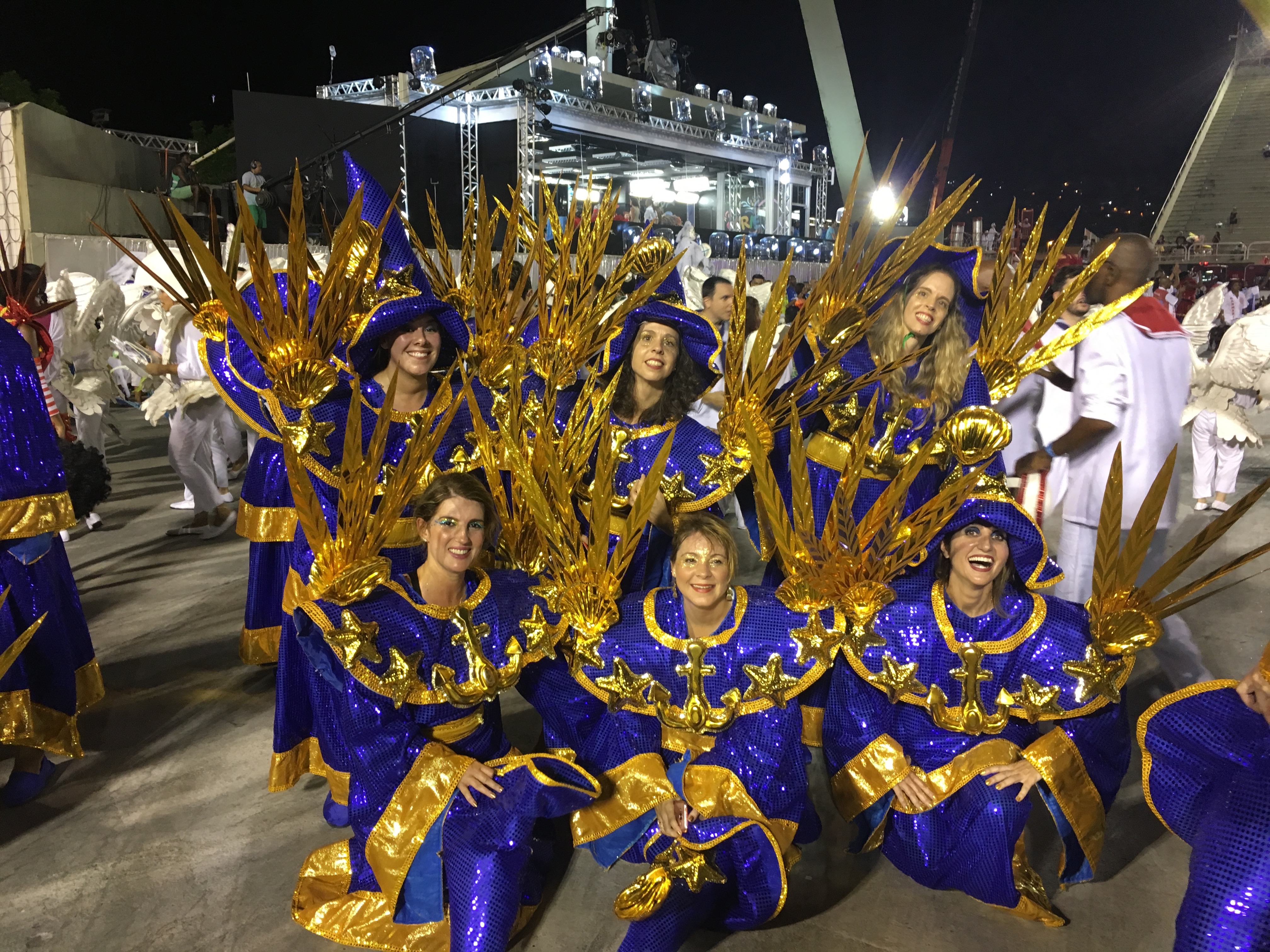 The Main Event
Coming back from the parade at around 6:30am, I took it easy the next day, checking out a couple Blocos then spending a lazy afternoon over ice cold beer and frango a passarinho at Copacabana's Pavao Azul and the night at Chora Me Liga, of course to save energy for the big night ahead.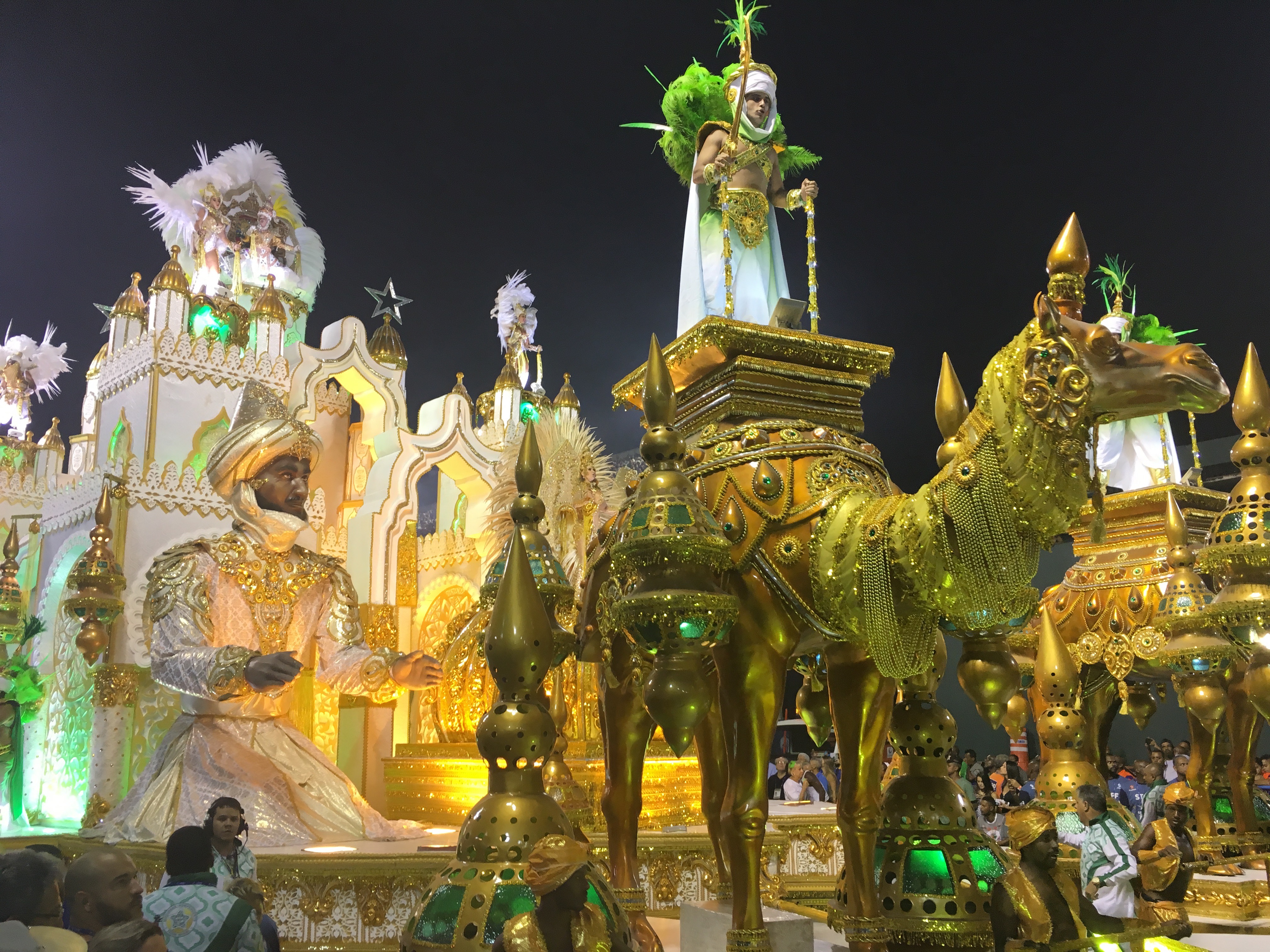 Ready with my customized abada I joined the group and off we went back to the sambadrome where is extremely important to keep in mind which sector of the you will be watching the parade because the driver will need to take an entirely different way around the city to arrive on correct side. Arrival at the camarote was smooth, credentials checked, and we were greeted with bubbly and passed hors d'oeuvres.
The Special Group parade started promptly at 10pm with Uniao da Ilha do Governador and proceeded all night until Mangueira's last float crossed the avenue at around 7am. Each samba school develops on a theme with their lyrics, costume design and evolution of the various sections and floats to cross the avenue. They are evaluated by a group of judges and the whole thing is a serious competition that can make or break the community that worked so hard all year to prepare for the event. Timing is of the essence, each samba school has no less than 65 and no more than 82 minutes to cross the entire space or points are deducted, among other criteria.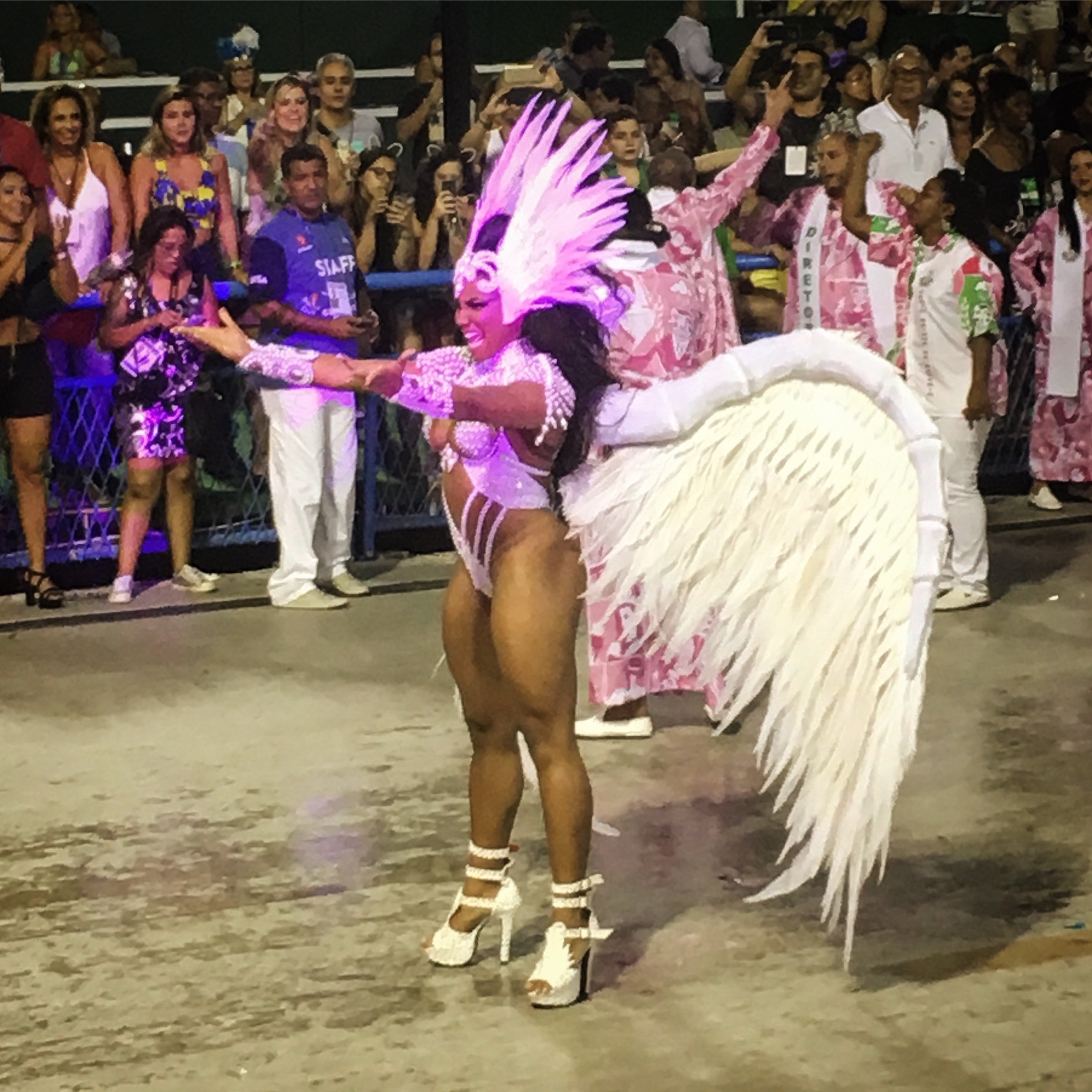 Our VIP section was at the very beginning of the parade, and in my point of view was a privileged location because it's where percussion stays while the various sections pass by. This means we had about 45 minutes of the highest quality live percussion just to ourselves with each samba school before they go back into the avenue and proceed towards the end, being replaced by massive sound trucks. The colors are brighter, the music is louder and floats are much bigger than I expected from seeing it on TV, the entire place vibrates to the beat of the drums and the energy is beyond words.
We had been eagerly waiting for Mangueira, last but most certainly not least, who closed the show at around 7:30am with an amazing all religions theme. It was then that my bravest friend jumped the fence into the avenue cheering the rest of us to do the same, following Mangueira's last float. My second round at the Sapucai was as exhilarating as the first, but in a sneaky, carefree way. Not to encourage anyone to do that, but if you are feeling adventurous, you will be joined by hundreds of others paying their last homage to the last school to cross the sambadrome before results are in. This is such a happy and peaceful moment that organizers tend to turn a blind eye on it, and boy, what an incredible high!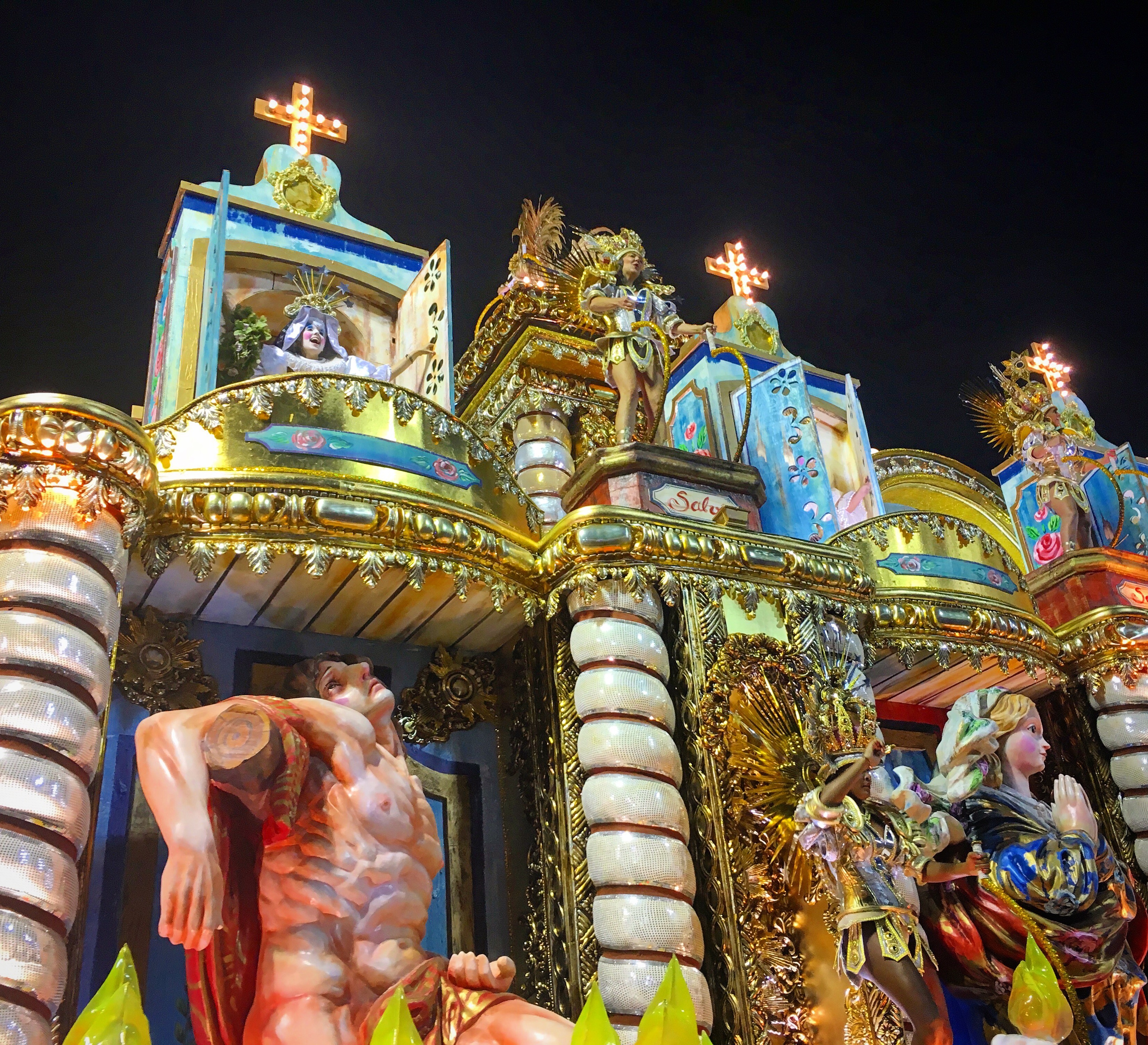 The difference between Series A and Special Group is huge in all aspects, and if choosing one to watch, choose the latter! I would definitely recommend buying camarote or frisa tickets, and though more expensive, you'll enjoy the show from the comfort of your own area, where food and drinks flow freely until the morning, you can take a break in the air conditioned space and clean bathrooms with no lines. If you're going all the way to Rio for Carnaval, you might as well do it right, that is with buffet dinner and a caipirinha in hand at all times. From the spectator side, one can really grasp the grandeur of the spectacle and it is truly the experience of a lifetime.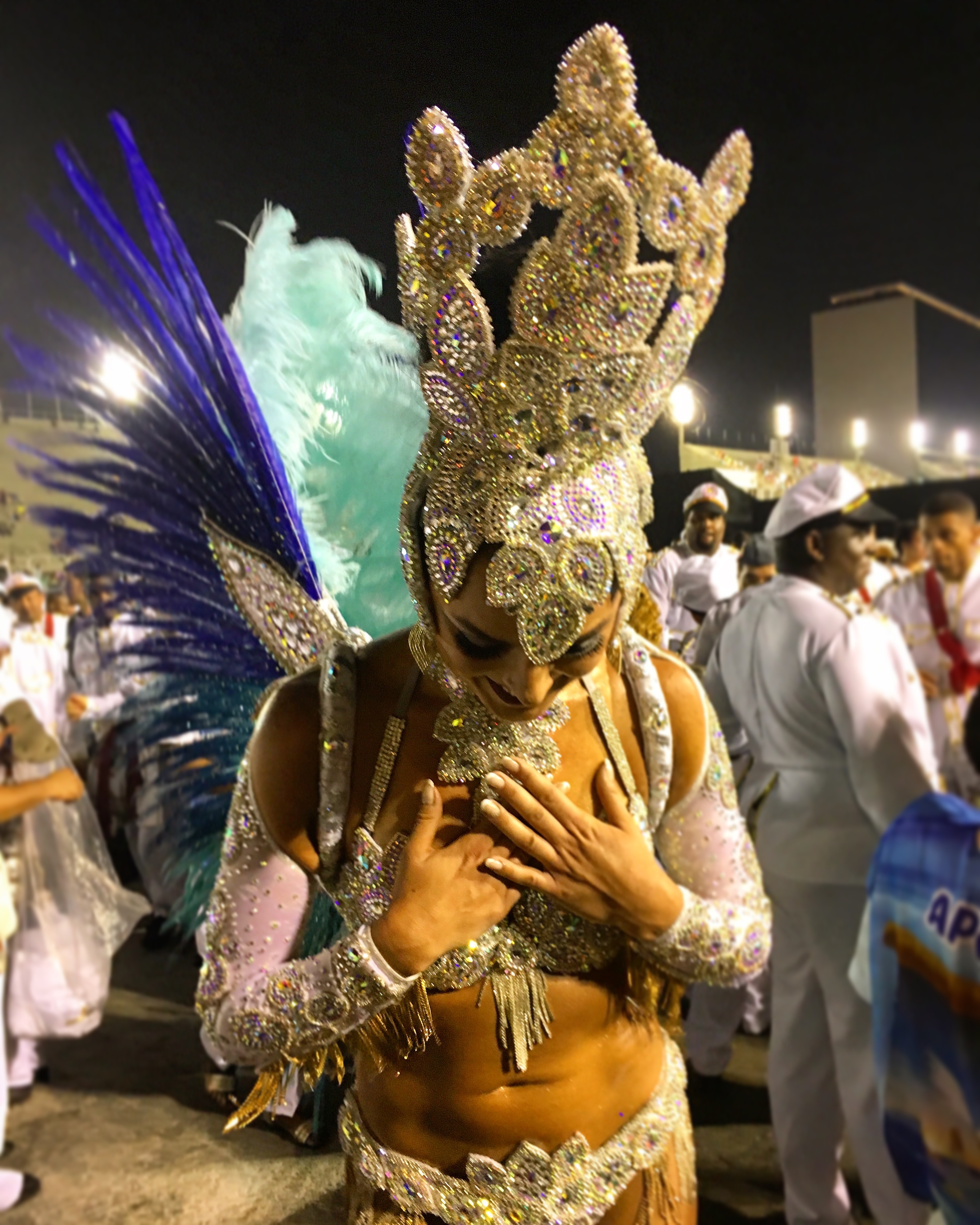 So many options – mini guide

There is carnival for everyone in Rio, and besides the main parades, the entire city is out in creative costumes and entire groups come out in coordinates, but one item that shouldn't miss: copious amounts of glitter!
Street Blocks are closed all through the city with bands, sound trucks, vendors selling food and drinks, and a large crowd of partygoers will form around it and follow the trucks down the streets, singing, dancing, drinking and having fun. Some suggestions are Cordao do Boi TaTa, more tradicional, Bloco do Sargento Pimenta plays Beatles music in Carnaval rythms and Banda de Ipanema, for the LGBT crowd and everyone is welcome to join. For those who aren't afraid of braving the crowds, Monobloco and Cordao do Bola Preta are large, wildly popular and as local an experience as you will get, but be extra careful with your belongings and don't lose sight of your group.
Baile do Copa The most upscale carnaval celebration in the city, takes place at the iconic Copacabana Palace. Luxury costumes or black-tie attire is required and tickets include buffet dinner, open-bar and all night dancing while rubbing shoulders with Rio's finest.
Chora me liga for the fans of country and Axe music, this party is a break from the expected samba 24/7 and you won't see partygoers in costumes. It's more laid back, concert-style and last year it took place in the gorgeous Jockey Club.
Lapa presented by Fundicao Progresso, free large-scale outdoor event with several musical attractions onstage for the entire duration of Carnaval.
Baile de salao the old school way to celebrate, clubs in the historic downtown host live bands playing slower paced marchinhas (old sambas), that everyone grows up singing and the nostalgia of olden times is so comforting. I recommend Trapiche Gamboa for the last night when batteries are running on reserve after all the events.
Special thanks to the dear cariocas and Carnaval experts Rosane Nicolau, Adriana Vinhaes and Izabela Garcez.
Comments are closed.