"Aqui começa a vida" – Após o Final de uma Grande História
Como primeira história no blog, achei importante começar com uma de tanta importância na história da cidade de Nova York.  Não é qualquer hotel que tem o poder de me tirar de casa para passar a noite a algumas quadras de distância, mas essa era uma ocasião especial: minha despedida pessoal ao icônico Waldorf Astoria antes que feche por tempo indefinido para reformas onde a maior parte do prédio será convertida em um condomínio de apartamentos.  Minha estadia nesse marco importante de Nova York começou com um tour guiado pela fantástica Karen, em seguida um delicioso almoço no restaurante Bull & Bear, e para completar a experiência, uma massagem relaxante no Guerlain Spa (que está de mudança para o Plaza Hotel) antes de fazer o check out.
Aberto em 1931 como o maior e mais alto hotel do mundo, o endereço de numero 301 da Park Avenue foi apresentado a sociedade com muita comemoração, completamente decorado no mais deslumbrante estilo art-deco.  Nos anos 30 era falta de educação tratar de dinheiro na presença de uma dama, assim foi criada uma área para elas em estilo Greco-Romano, na entrada da Park Avenue em contraste com o lobby dos cavalheiros, em tons mais escuros e sóbrios onde fica o relógio do World's Fair com carrilhão de Westminster.  Foi um presente da Rainha Victoria aos Estados Unidos para a World Columbian Exposition em Chicago, e comprado pelo Coronel John Jacob Astor IV, co-fundador do Waldorf=Astoria original na 5a Avenida.
World Fair Clock
Este é o único hotel de NY que realmente oferece uma Suíte Presidencial, por ser o único a hospedar todos os presidentes americanos desde sua abertura.  O hotel não mede esforços para acomodar os inúmeros chefes de estado, políticos, celebridades, e VIPs com conforto e segurança durante seus 85 anos de história.  No lugar de um porão, uma linha de trem secreta foi construída em baixo do edifício para facilitar direto acesso ao hotel.  Ali também foi onde aconteceu a festa "Underground" de Andy Warhol em 1965.  O vagão de trem do Presidente Frankilin Delano Rosevelt, que no momento reside dormente em seu trilho 61, transportava sua limusine Pierce-Arrow a plataforma secreta e ao enorme elevador de carga que sobe direto ao hotel.  Quando o Presidente não está em NY, a suíte era disponibilizada para reservas de hóspedes.  O hotel também foi a residência de vários famosos, incluindo Cole Porter, Frank Sinatra, Marilyn Monroe e Elizabeth Taylor.
No Waldorf Astoria também foram concebidos o serviço de quarto 24h, a Salada Waldorf, criada pelo Maitre "Oscar do Waldorf" Tschirky, o prato favorito de brunch, Ovos Beneditinos, e o famoso Red Velvet Cake. Além de também ter recebido a alta sociedade de Nova York para inúmeras festas no íntimo salão Basildon, ou no Grand Ballroom, como o famoso Baile do Circo de Elsa Maxwell em 1935.  Passear entre os salões, e provar da culinária foi um verdadeiro banquete sensorial, e me imaginei vivendo no tempo antigo, tomando uma champagne com vista do céu estrelado no Starlight Room.
De fato, já estava mais do que na hora de uma reforma no hotel, e ao passo que chegamos  ao final do Waldorf como o conhecemos, nas áreas públicas já nao há mais o dramático entra e sai de personagens e histórias que se cruzam como no filme de Ginger Rogers em referência.  Senti um misto de doce e amargo, mas ao mesmo tempo foi confortante ver que a equipe de longa data continua a dar o seu melhor apesar de seus empregos estarem com os dias contados.  Tanta história aconteceu nesta "Grande Dama" que sinceramente espero que o Comitê de Preservação de Marcos de NY consiga preservar com sucesso a maior parte possível de seus interiores após o último hóspede fazer seu check out neste 1o de Março de 2017.
Comments are closed.
One last "Weekend at the Waldorf"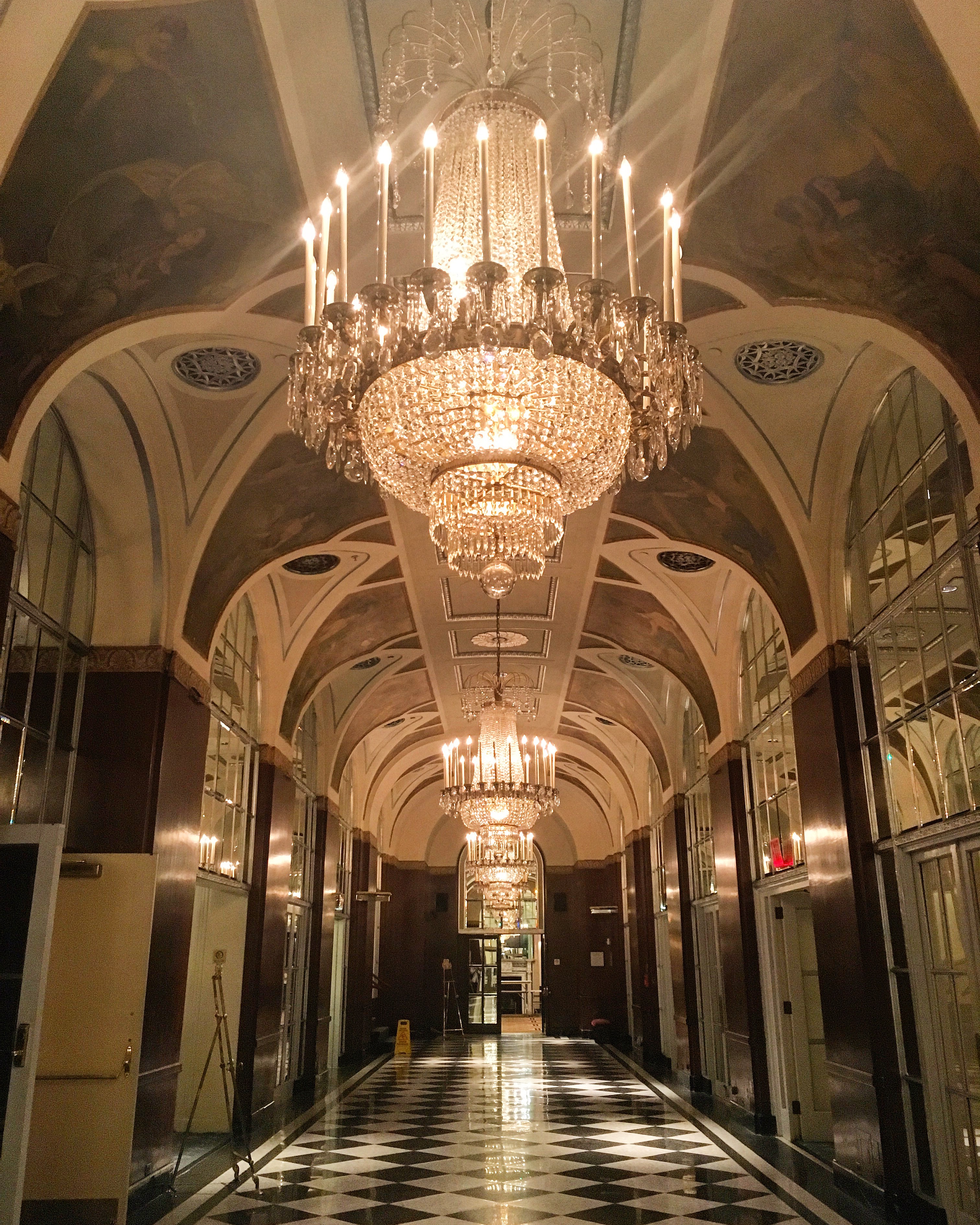 As the first blog feature, I felt it was appropriate to start with one that is so important in New York City history. Not just any hotel has the power to lure me out of my home to spend the night a few blocks away, but this was a special occasion: my personal farewell to the iconic Waldorf Astoria before it closes indefinitely for renovations where the majority of the building will be converted to condos. My staycation in this NYC landmark started with a tour led by the wonderfully passionate Karen, followed by a delicious lunch at Bull & Bear, and to complete the experience, a relaxing massage at the property's Guerlain Spa (soon moving to the Plaza Hotel) before checking out.
Opened in 1931 as the tallest and biggest hotel in the world, the 301 Park Ave address was introduced to society to much fanfare, fully adorned in the most exquisite art-deco style. Back in the 1930s it was impolite to handle cash in front of a lady, so a special Ladies sitting area in Greek-roman style facing Park Avenue in contrast with the more sober, darker Gentlemen's lobby where the World's Fair Clock with Westminster chimes sits front and center. It was a present from Queen Victoria to America at the 1893 World Columbian Exposition in Chicago and purchased by Col. John Jacob Astor IV, co-founder of the original Waldorf=Astoria on 5th avenue.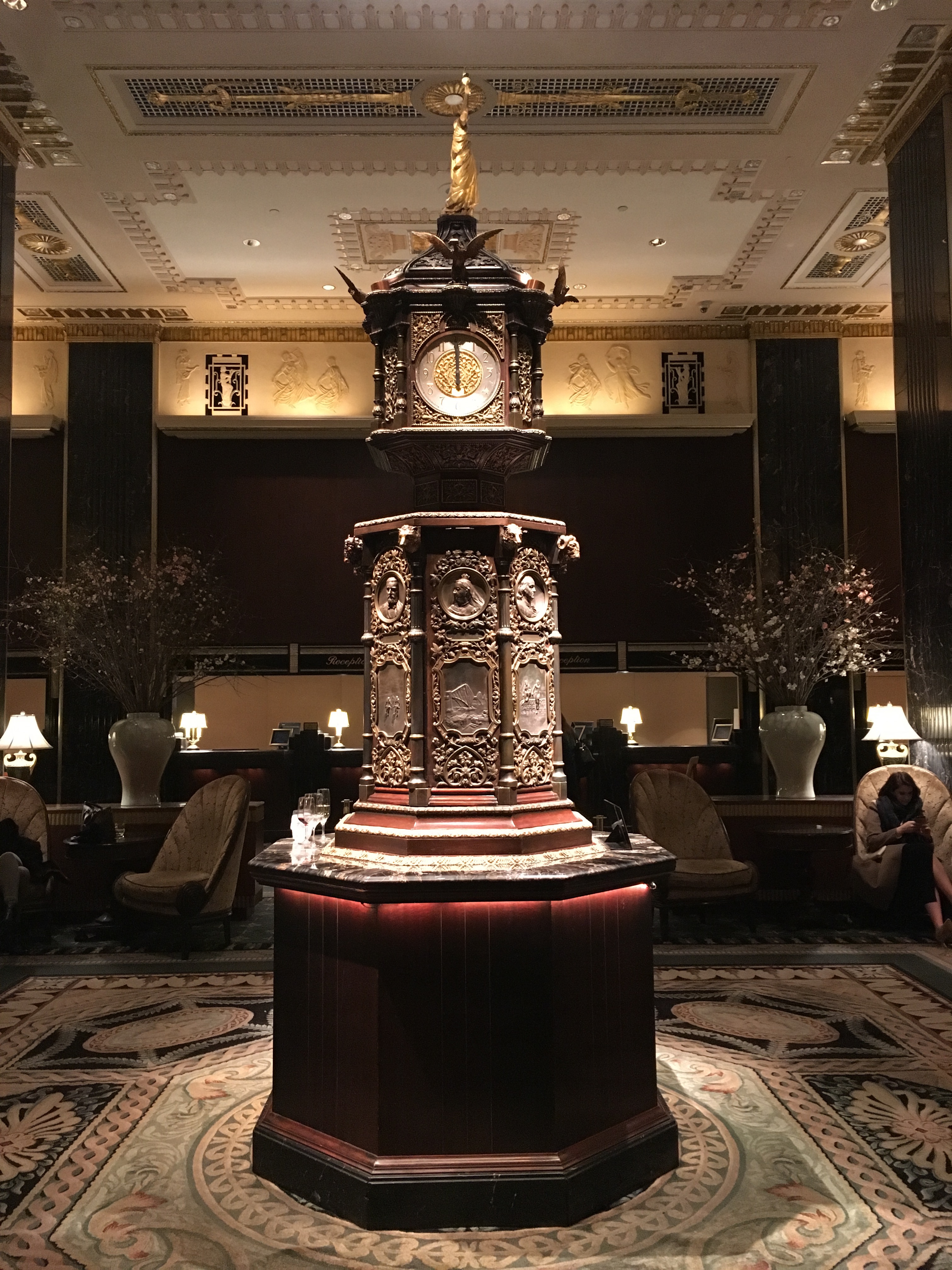 World Fair Clock
It is the only New York City hotel to feature a true Presidential Suite as it has been the one to accommodate all American presidents since its opening. The hotel has made every effort to comfortably and safely host countless heads of state, politicians, celebrities and VIPs over its 85 years of history. Instead of a basement, a secret train track was built under the building to facilitate direct access to the hotel. These tracks were also the venue chosen by Andy Warhol for his "Underground" party in 1965. President Franklin Delano Rosevelt's rail car, which now sits dormant in its track 61, transported his Pierce-Arrow limo into the secret platform and into the massive freight elevator that goes directly up to the hotel. Although when the President is not in town, the Presidential Suite is available for guests to book their stays. The hotel was also home to famous residents including Cole Porter, Frank Sinatra, Marilyn Monroe and Elizabeth Taylor.
The Waldorf Astoria was also the birth place of 24h room service, the Waldorf Salad, created by Maitre d' "Oscar of the Waldorf" Tschirky, the brunch staple Eggs Benedict, and the world famous Red Velvet Cake. Besides of course hosting New York's high society parties in the intimate Basildon Room or the Grand Ballroom such as Elsa Maxwell's Circus Ball of 1935. Touring the spaces and sampling the food was a sensory feast, and I imagined myself living in the olden days, sipping champagne under the stars in the Starlight Room.
Indeed, the property had been overdue for a much needed renovation, and as the end of the Waldorf as we know it approaches, its public areas are no longer the backdrop for dramatic comings and goings of characters or the intersecting story lines of the Ginger Rogers' title in reference. It felt bittersweet but warming to see the long time staff continuing to put their best feet forward despite their jobs' soon expiration date. So much history took place in this Grande Dame that I truly hope the New York City Landmarks Preservation Commission succeeds in preserving as much of its interior and history as possible once the last guest is checked out on this coming March 1st, 2017.
Fatal error
: Cannot redeclare theme_comment() (previously declared in /var/www/wp-content/themes/worldkeytravel/comments.php:12) in
/var/www/wp-content/themes/worldkeytravel/comments.php
on line
12